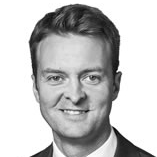 Mark Coates
Senior Consultant
Mark handles law firm partner recruitment and senior in-house legal roles. With over eighteen years of experience, he has recruited individual partners, teams, and in-house counsel across London, Hong Kong, Singapore, and Japan.
Mark commenced his recruitment career in London in 2003, initially with Hughes-Castell, where he first worked with Scott Gibson. In 2006 he joined the private practice team at Taylor Root, working with top-tier US and UK law firms at the associate and partner level. During this period Mark spent a year working with Sloane Poulton as a member of the specialist partner recruitment team. In 2009 he relocated to Hong Kong, where he brokered a number of significant placements with Asia-based UK and US law firms. While in Hong Kong, Mark was promoted to Partner and head of Taylor Root's Hong Kong office. Mark returned to the UK in 2014 with Taylor Root and ran the City private practice team before setting up his own legal recruitment firm in 2016.
Mark joined Edwards Gibson in 2019, to specialise in partner level law firm recruitment and retained in-house assignments.
Email: Mark.Coates@edwardsgibson.com