Download the full Partner Moves Issue here >>
Welcome to the 67th edition of law firm partner moves, from the specialist partner team at Edwards Gibson, where we look back at announced partner-level recruitment activity in London over the past two months and give you a 'who's moved where' update.
With few exceptions, our January-February edition tends to record the highest number of moves in any given year. This bi-monthly round-up contains 94 partner moves – an increase of 4% on the number of hires we saw during the same period last year (90) and the cumulative five-year average for the same period –also 90. In terms of laterals (partner-to-partner hires), there were 57 in total; down 16% on this time last year.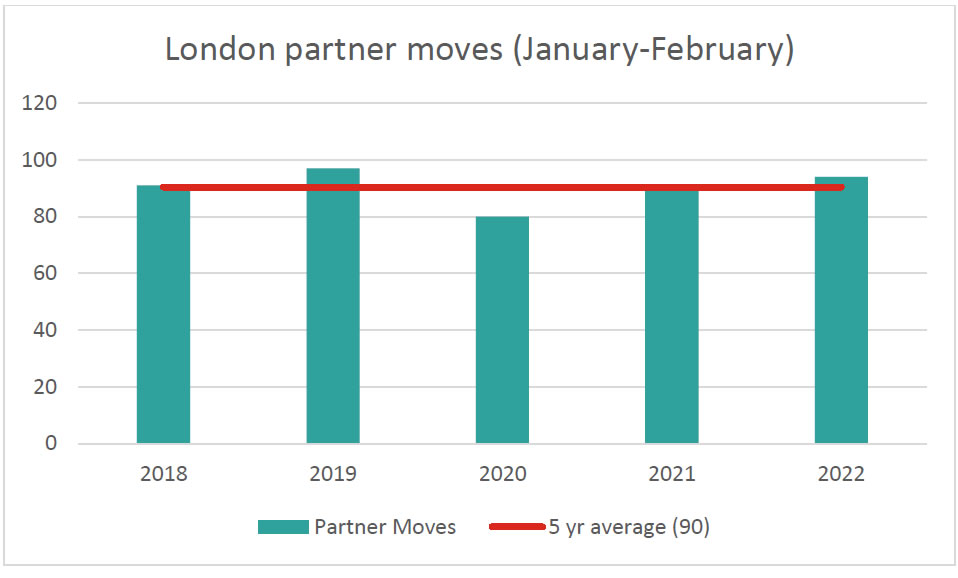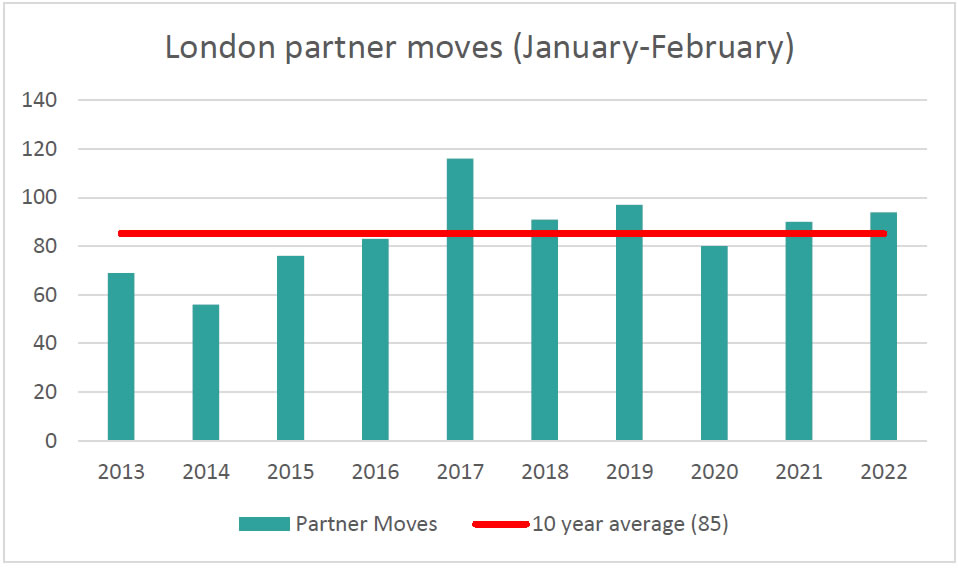 So far, 2022 has seen no fewer than eight firms hire three or more partners. The most covetous firm was Pallas Partners - a scion of the much larger US disputes boutique Boies Schiller Flexner; in one of the worst kept secrets in law, the newly launched outfit sees a quintet of disputes laterals from Boies Schiller Flexner re-unite with their former global deputy chair, Natasha Harrison, whose own departure from the New York firm was reported in our last edition.
The next most acquisitive firm was Eversheds Sutherland, with five hires (3 laterals and 2 verticals); followed by, the now not so soon to be listed, Mishcon de Reya which hired four (2 laterals and 2 verticals).
Top partner recruiters in London January – February 2022
| | |
| --- | --- |
| Pallas Partners | 6 |
| Eversheds Sutherland | 5 |
| Mishcon de Reya | 4 |
| Allen & Overy | 3 |
| Armstrong Teasdale | 3* |
| Baker McKenzie | 3 |
| CMS Cameron McKenna | 3 |
| Mayer Brown | 3 |
*Onboarded three partners, although one has subsequently departed
Also of note in this edition
2 firms hired from in-house this round-up: Kirkland & Ellis (from Libya-Analysis) and GQ Littler (from NBCUniversal)
33% of all hires were female
39% of all moves were non-partners moving into partnership
Market Outlook
As we reported in our last edition, on both sides of the Atlantic, the Covid-induced lockdown year of 2020 and the subsequent economic bounce-back through 2021 were kind to commercial law firms. Whilst law firm revenue typically increased, dramatic cost savings (from global travel restrictions, fewer entertainment expenses, rent reductions, etc.) coupled with productivity gains from the universal adoption of Zoom/Teams - as well as (now proven) efficiencies in associates working from home - meant that law firm profitability rose sharply in 2020 and largely remained elevated through 2021. Record revenue and profitability provided law firms with the means and confidence to invest in new partner hires, so unsurprisingly, 2021 was in real terms, a record year for law firm partner This strong recruitment activity, underpinned by an ongoing deals tsunami, has continued into 2022.
Nevertheless, law firms now face some incredibly strong headwinds – whilst the benefits of Covid related cost savings have largely tapered out, fixed salary costs on both sides of the Atlantic have skyrocketed thanks to ongoing associate salary wars. That by itself should blunt law firm profitability a tad, however, the halting of Covid related debt fuelled Government stimulus, together with pending tax rises, hikes in interest rates and global inflation rising to levels unseen for 30 years, will challenge even the best managed law firms to maintain profitability. Throw in a major land conflict in Europe on a scale not seen since the Second World War - which, quite apart from the economic impact, is in itself an existential threat to the international rules-based system which underpins much of Big Law - and things really start to look tricky…
At the time of writing there is a drastic military and humanitarian situation in Ukraine and it seems almost glib to make projections on something as esoteric as the hiring outcomes of Big Law. Nonetheless, our guess is that the law firm partner market will cool appreciably by the second half of this year … we'd sure love to be wrong.
Please do not hesitate to contact us if you would like to discuss this article or any other aspect of the market in more depth.

Scott Gibson, Director scott.gibson@edwardsgibson.com or +44 (0)7788 454 080
Sloane Poulton, Director sloane.poulton@edwardsgibson.com or +44 (0)7967 603 402
Mark Coates, Senior Consultant mark.coates@edwardsgibson.com or +44 (0)7541 666 856
Please click here to understand our methodology for compiling Partner Moves
Download the full Partner Moves Issue here >>
If you would like to subscribe to our Partner Moves Newsletter, email us at support@edwardsgibson.com