Download the full Partner Moves Issue here >>
Welcome to the 75th edition of Law Firm Partner Moves in London, from the specialist partner team at Edwards Gibson, where we look back at announced partner-level recruitment activity in London over the past two months and give you a 'who's moved where' update.
A summary of the first half of 2023
This edition marks the midpoint of 2023 and we have included some facts and figures below comparing the partner-level recruitment activity in the first half of 2023 with that over the same period of the past five years. The first half of 2023 has seen a total of 250 announced partner moves, up 2.5% on the five-year average for the same period (244).
Unsurprisingly after two "real term" half-year records, the market for partners in the first half of 2023 has softened slightly - down 5% on the same period last year. In view of a more general slowdown in the market for legal services it is perhaps surprising that the partner hire market has remained as robust as it has although (as discussed below) some of the moves (we estimate 6%) were involuntary as they were by emigrees from firms which collapsed or stopped trading (Ince and MJ Hudson). Nevertheless, the market contained plenty of "growth hires" with even conservative hirers, such as Cravath Swaine & Moore, Cleary Gottlieb, Freshfields Bruckhaus Deringer and Sullivan & Cromwell, all welcoming laterals.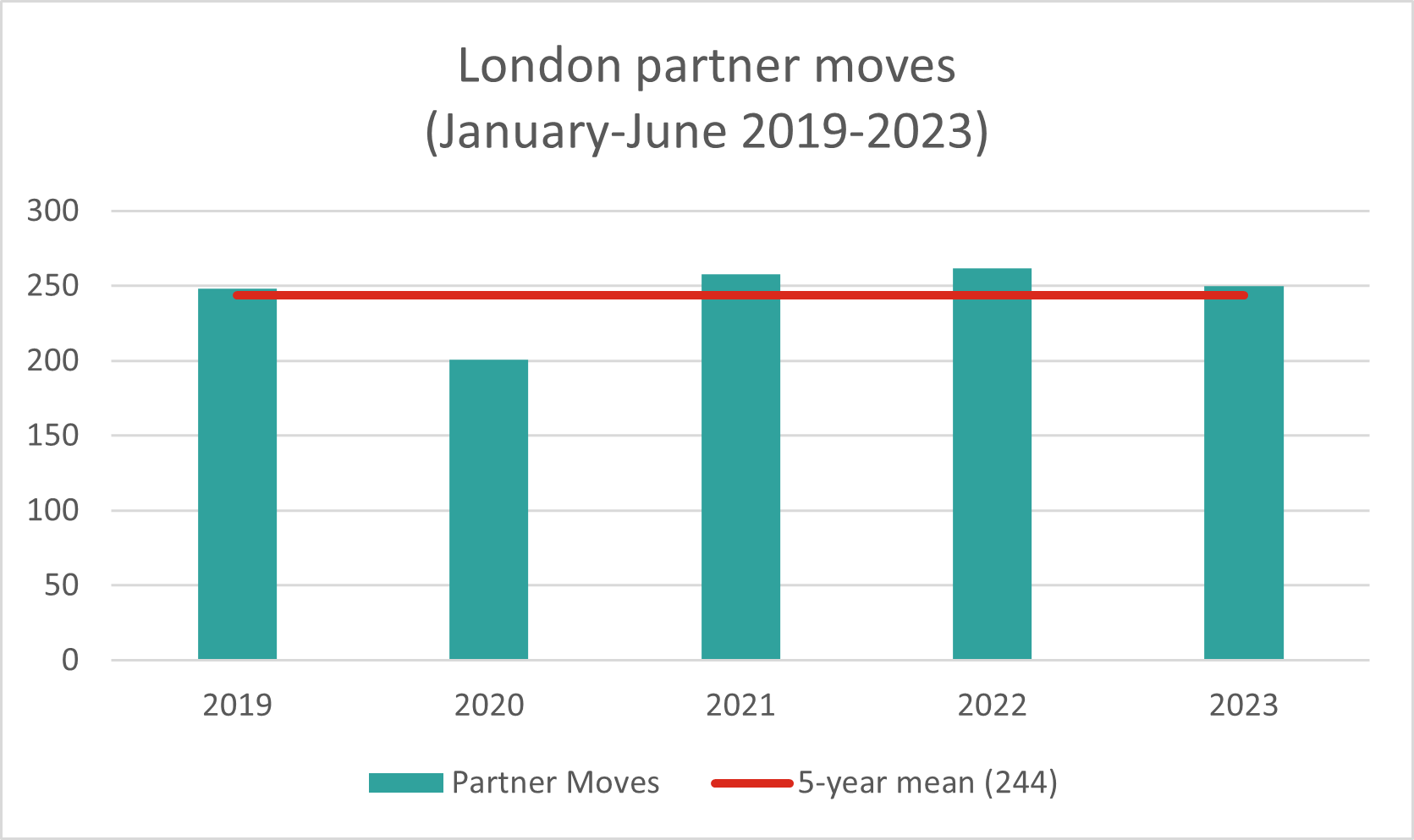 The most prolific hirer in the first half of 2023 was Stephenson Harwood which hired 8 partners (4 of whom were laterals) succeeded by CMS (7 partners) and Hill Dickinson, Howard Kennedy, Milbank, and Sidley Austin which snapped up a half-dozen partners apiece.
Top partner recruiters in London 2023 (inclusive of moves from non-partnership)*
| | | |
| --- | --- | --- |
| Stephenson Harwood | 8 | (4 laterals) |
| CMS | 7 | (6 laterals) |
| Hill Dickinson | 6 | (6 laterals) |
| Howard Kennedy | 6 | (5 laterals) |
| Milbank | 6 | (6 laterals) |
| Sidley Austin | 6 | (5 laterals) |
| Addleshaw Goddard | 5 | (4 laterals) |
| Kingsley Napley | 5 | (5 laterals) |
| Paul Hastings | 5 | (4 laterals) |
| Watson Farley & Williams | 5 | (3 laterals) |
On the other side of the coin, over the same period, troubled New York firm Shearman & Sterling suffered the highest attrition, losing 9 lateral partners in London (and many more across Europe and the Middle East) - a rate of attrition which it will be hoped will ease following the announcement of its pending tie-up with Allen & Overy (see below).
Throughout 2023 we have reported on the travails of Travers Smith. Ignoring recent promotions, in the first six months of 2023 alone, the 80 something partner private equity focused firm has lost around 10% of its partnership to competitors. Since January, Travers Smith and listed firm Ince (whose parent company went into administration in April 2023) lost 8 partners apiece. Next up with 7 lateral departures each was: Anglo-American firm BCLP; Scottish private equity boutique Dickson Minto (which closed its London office); and funds boutique MJ Hudson (whose legal services arm collapsed in April 2023).
Firms with largest attrition in London 2023 (partnership to partnership moves only)*
| | |
| --- | --- |
| Shearman & Sterling | 9 |
| Ince | 8 |
| Travers Smith | 8 |
| BCLP | 7 |
| Dickson Minto | 7 |
| MJ Hudson | 7 |
| Charles Russell Speechlys | 5 |
| Linklaters | 5 |
| White & Case | 5 |
*To 30 June 2023.
Other fun facts from the first half of 2023
29% of all moves so far in 2023 were female (73)
5% of all moves (12) were in-house lawyers moving into law firm partnerships
37 lawyers (15%) were vertical hires (non-partners elevated to partnership upon moving from another law firm)
May – June 2023
This bi-monthly round-up contains 72 partner moves – down 21% on the 91 we saw for the same period in 2022 (and 4% less than the cumulative five-year and ten-year averages for the same period – both 75).
Almost a third of moves this edition were female (22)
6% of all moves (4) were in-house lawyers moving into law firm partnerships
12 lawyers (17%) were elevated to partnership from other law firms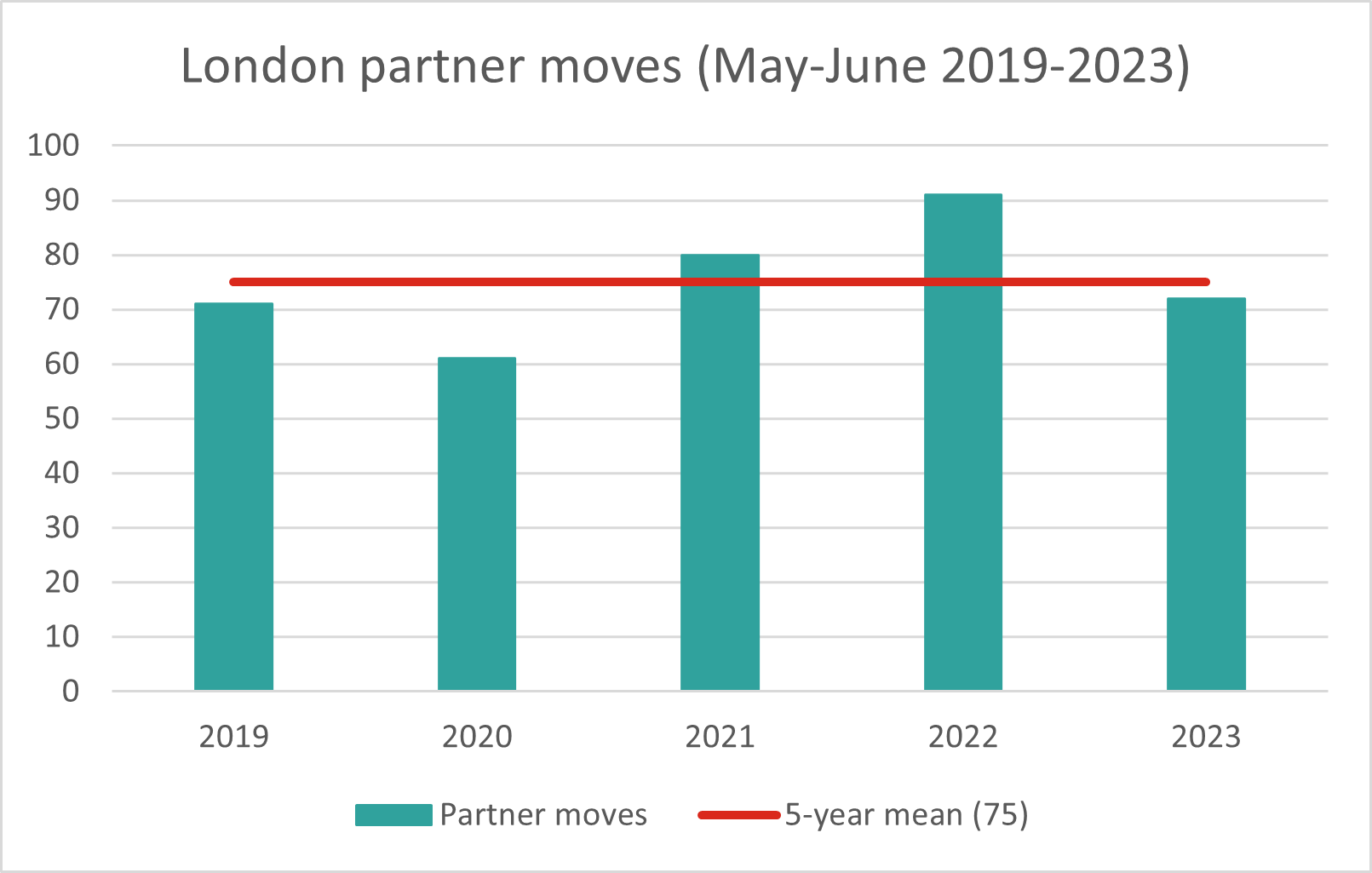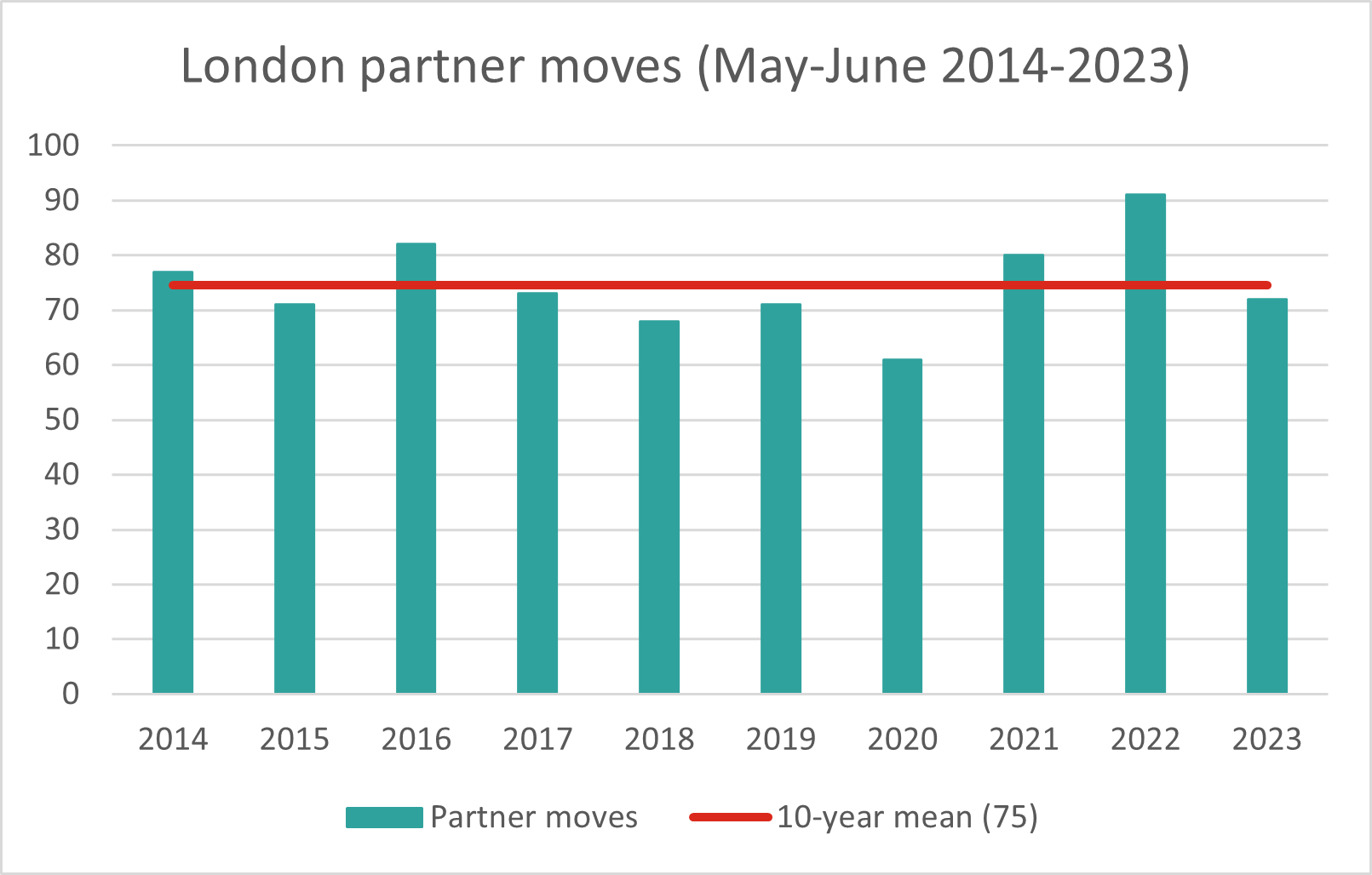 Top partner recruiters in London May – June 2023
| | | |
| --- | --- | --- |
| CMS | 5 | (4 laterals) |
| Hill Dickinson | 5 | (5 laterals) |
| Watson Farley & Williams | 4 | (3 laterals) |
| Ashurst | 3 | (3 laterals) |
| Howard Kennedy | 3 | (3 laterals) |
| Irwin Mitchell | 3 | (3 laterals) |
| Shoosmiths | 3 | (3 laterals) |
The most significant law firm merger ever?
By far the most significant news in BigLaw came in late May when it was announced that Magic Circle firm Allen & Overy and White Shoe New York outfit Shearman & Sterling intended to merge to form A&O Shearman – a tie-up which, if voted through, will create a true legal leviathan with revenues of $3.4 billion.
Probably a good thing for both firms - especially for Shearman, which at one point looked like it might be forced into a shotgun wedding! From an EMEA perspective, Shearman was bleeding laterals in continental Europe, the Middle East and London (see above) and the tie-up with Allen & Overy was so much better than some of the rumoured alternatives. The new firm will have global scale and punch with exceptional offerings in: leveraged finance, debt capital markets, structured products, project finance and, from a London vantage point at least, a truly formidable pitch in financial services regulatory.
Putting aside the fact that leveraged finance is deadly quiet right now (on both sides of the Atlantic), the problem for both firms has been their relative weakness in transactional private equity – which for the past ten years has been the dynamo behind BigLaw. UK firms have struggled to keep up with US firms in the private equity arena – with Allen & Overy's PE offering probably being the weakest of its Magic Circle peers. Shearman's transactional private equity offering has long been eclipsed on its home turf by US firms that it would once have considered poor cousins.
At heart, both outfits are "finance firms" – a brilliant place to be pre-Lehman, but not quite so peachy post-Lehman. The new firm will doubtless hope that its scale and brand will help remedy this relative private equity weakness but, as everyone in law firm management knows, this will be easier said than done. Private equity "names" are eye wateringly expensive and, precisely because both Allen & Overy and Shearman & Sterling largely missed out on the private equity boom, the profitability of A&O Shearman will be well below that of the firms it will need to target.
That being said, with global interest rates at a 10-year high, private equity will be less frothy which may help to flatter the new firm's financials against peers, which could in turn help it attract talent.

To avoid the inevitable information leakage, it appears that the merger discussions were kept very tight amongst the senior management at both firms and the deal presented to the partnerships as a fait accompli immediately before its announcement to the wider market. Nevertheless, the merger is still subject to partnership vote and, even if it goes through, thorny issues around management and compensation could, if not handled carefully, lead to further significant departures on both sides of the Atlantic.
Inevitably, a lot of commentators have picked up on the A&O Shearman merger as a prelude to further tie-ups between upper quartile US firms and the UK's Magic Circle. This long-standing prediction – fashionable now for nearly a quarter of a century following the Clifford Chance / Rogers & Wells merger in 2000, may well prove correct but possibly in a "stopped watch is right twice a day" sense. The fact is such high-profile mergers remain fraught with risk and are extremely hard to execute.
Still, if we go down a level, some consolidation is probable. Although there is much talk of Ashurst getting hitched to an American suitor, our money is on UK Silver Circle firm Travers Smith. Travers is a high quality (albeit slightly tarnished) City outfit with a private equity niche which, following inexplicably weak profitability, has suffered unprecedented levels of lateral attrition (see above) and would appear to be in need of its own shotgun wedding – unfortunately perhaps not on the terms that it might once have expected.
A correction
In our last edition we incorrectly reported that energy and infrastructure lawyer David Wyles joined Eversheds Sutherland as a partner. In fact, Mr Wyles joined as a consultant (albeit head of infrastructure M&A finance). As per our methodology, our publication only records partner hires so the inclusion of this move was incorrect.
Please do not hesitate to contact us if you would like to discuss this article or any other aspect of the market in more depth.
Scott Gibson, Director scott.gibson@edwardsgibson.com or +44 (0)7788 454 080
Sloane Poulton, Director sloane.poulton@edwardsgibson.com or +44 (0)7967 603 402
Please click here to understand our methodology for compiling Partner Moves
Download the full Partner Moves Issue here >>
If you would like to subscribe to our Partner Moves Newsletter, email us at support@edwardsgibson.com